Kansas City Mesothelioma Lawyer
Page Updated on January 16, 2020
As the largest city in Missouri, Kansas City has a robust economy in many industries. Prior to the 1980s, the majority of steel and chemical facilities in the city used asbestos in products and materials. Before the Environmental Protection Agency (EPA) placed strict regulations on the use of asbestos at job sites, it was common for various industries to use the mineral for its insulation and fire and heat resistance.
Unfortunately, by the time the regulations were enforced, many Kansas City workers had already been exposed to airborne asbestos fibers.
If you or a loved have mesothelioma, asbestos-related lung cancer, or asbestosis, you may be eligible for a large amount of compensation. We invite you to fill out our form today for a free Financial Compensation Packet, filled with information about top mesothelioma lawyers in Kansas City, how to get paid in 90 days, how to file an asbestos trust fund claim, and much more.
Harcros Chemical Incorporated
Harcros Chemical Incorporated once used asbestos in all of their plants, including at its headquarters in Kansas City. As with other companies that used asbestos, Harcros utilized the dangerous mineral on high-temperature machinery and equipment to prevent overheating and fires. Subsequently, thousands of workers across the nation who worked in plants owned by Harcros were in direct danger of inhaling and ingesting asbestos fibers.
Although Harcros stopped using asbestos in the late 1970s, it didn't stop lawsuits that followed after workers developed serious asbestos-related diseases. Some lawsuits were filed by a group of workers while others were filed by single plaintiffs.
Other Job Sites Associated with Asbestos in Kansas City
Hospitals
Children's Mercy Hospital
Grace Hospital
St. Joseph Hospital
Research Medical Center
Saint Luke's Hospital
Kansas City VA Medical Center
Schools
Pasco High School
Kansas City Art Institute
Electric Companies
Association Electric
Edison Electric and Power Company
Empire District and Electric Company
Kansas City Electric Light Company
Hotels
Alcazar Hotel
Grand Avenue Hotel Company
Muehlebach Hotel
The Raphael Hotel
Steel Companies
Armco Steel Corporation
Midwest Steel Division
Scullin Steel Company
Sheffield Steel Corporation
United Aluminum & Steel
Asbestos Statistics in Kansas City
According to the Environmental Working Group (EWG), there have been at least 354 people who died from an asbestos-related illness in the state of Kansas since 1979. Kansas City represents more than half of these numbers, making the #1 city for asbestos-related deaths in the state.
Getting Legal Help in Kansas City
Don't forget to fill out our form to get our free Financial Compensation Packet, filled with information on the leading asbestos and mesothelioma attorneys in your area.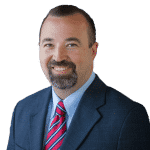 Aaron K. Dickey is a partner with the Flint Law Firm, LLC in Frontenac, Missouri. With 20 years of experience he specializes in helping victims of asbestos exposure and mesothelioma, as well as wrongful deaths, product liability and personal injury. As an expert in litigating and negotiating settlements, Dickey has been instrumental in helping his clients get justice for the harm caused to them as well as in recovering significant damages.