MesotheliomaLawyerCenter.org Privacy Policy
Page Updated on March 07, 2022
Effective Date: August 25, 2020
This privacy policy ("Privacy Policy") applies to Mesotheliomalawyercenter.org. We respect your privacy rights and value your trust. This Privacy Policy describes how we collect, receive, use, store, share, transfer, and process your personal information, as well as your rights in determining what we do with the information that we collect or hold about you.
FREE Financial Compensation Packet
Info on law firms that will recover your

highest compensation

Learn how to get paid in 90 days
File for your share of $30 billion in trust funds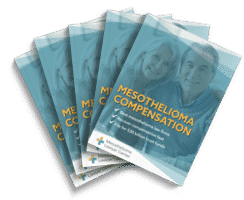 Mesotheliomalawyercenter.org is responsible for the processing of your personal information when you interact with our website. You may contact us at any time via the methods described below.
What is Personal Information?
Personal information is any information that you provide to us that identifies you, personally, or that can be logically associated with you. This information may include your name, email and physical address and your telephone number. Depending upon the product or service you request, you may also be asked to provide additional information such as whether you have been diagnosed with a particular asbestos related illness.
Collections of Personal Information
For purposes of this Privacy Policy, "personal information" refers to information that relates directly or indirectly to an identified or identifiable individual ("you"). The personal information that we collect about you varies depending on your interactions and touchpoints with us, as follows:
Information You Voluntarily Provide Us
While you interact as a visitor or user of our website we may ask, or you may volunteer, certain personal information, as follows:
Blood pressure
Health symptoms
Health treatment
Medical record number
Other health information
Health insurance policy number
Heart rate
Diagnosis
Medication
Height
Weight
Eye color
Physician or Healthcare Professional Practice Specialty
Hair color
Initials
Job level
User name
Signature
Job title
Profession
Social media account name
Name
Email Address
Information We Collect Automatically
We and our service providers use technologies on our sites to collect information that helps us improve the quality of our sites and the online experience of our visitors and users. In this Privacy Policy, we refer to these technologies, which include cookies– small text files stored on your computer or mobile device to remember your actions or preferences over time, and similar technologies from third party providers, collectively as "cookies." Cookies allow us to personalize your return visits to our sites and to save you time during certain activities, such as remembering your user preferences. Most web browsers support cookies, and users can control the use of cookies at the individual browser level. Please note that if you choose to disable cookies, it may limit your use of certain features or functions on our sites.
Third-party advertisers and other organizations may use their own cookies to collect information about your activities on our sites and/or the advertisements you have clicked on. This information may be used by them to serve advertisements that they believe are most likely to be of interest to you based on content you have viewed. Third-party advertisers may also use this information to measure the effectiveness of their advertisements. We do not control these cookies and to disable or reject third- party cookies, please refer to the relevant third party's website.
If you would prefer to not receive personalized ads based on your browser, you may generally express your opt-out preference to no longer receive tailored advertisements. Please note that you will continue to see advertisements, but they will no longer be tailored to your interests.
To opt-out of interest-based advertising by participating companies in the following consumer choice mechanisms, please visit:
Digital Advertising Alliance (DAA)'s self-regulatory opt-out page (http://optout.aboutads.info/) and mobile application-based "AppChoices" download page (https://youradchoices.com/appchoices)
European Interactive Digital Advertising Alliiance (EDAA)'s consumer opt-out page (http://youronlinechoices.eu)
Network Advertising Initiative (NAI)'s self-regulatory opt-out page (http://optout.networkadvertising.org/)
Any information you provide to us is considered confidential. We do not share information with any third parties. Visitors to our web page are recognized by our web server by domain name only; our web server does not recognize email addresses (where possible).
We collect email addresses of individuals who send us email, collect and combine information on which pages individuals visit, including information specific to the user, as well as information shared voluntarily by the individual, including information collected via survey or site registration, name, phone number, and/or address.
Why Do You Need To Collect My Personal Information?
We use the personal information you supply to us to provide to you the service(s) or product(s) that you request. We may also use your personal and other information to enhance your experience on our website(s) by displaying content based on your preferences. We may "depersonalize" your personal information to enable us to use that information, aggregated with the information of others, for research, analysis and modeling purposes.
With Whom Do You Share My Information?
We do not sell, share, rent or trade your personal information with third parties other than as disclosed within this privacy policy.
We may provide your personal information to companies that provide services to help us with our business activities such as an email service provider to deliver our monthly newsletter. This company is authorized to use your personal information only as necessary to provide these services to us.
We may also disclose your personal information as required by law, such as to comply with a subpoena, or similar legal process, applicable regulations, governmental and quasi-governmental requests, judicial proceedings, court orders and to enforce our Legal Notices or other agreements.
When we believe in good faith that disclosure is necessary to protect our rights, protect your safety or the safety of others, investigate fraud, or respond to a government request.
If MesotheliomaLawyerCenter.org is involved in a merger, acquisition, or sale of all or a portion of its assets, you will be notified via a prominent notice on our website of any change in ownership or uses of your personal information, as well as any choices you may have regarding your personal information.
If you indicate to MesotheliomaLawyerCenter.org that you would like to speak with a law firm for a free attorney consultation, your information will be provided to the law firm indicated.
How Do You Safeguard The Information You Collect?
The security of your personal information is a very high priority for us and we take a number of steps to safeguard it. Some of the measures we take are:
Limiting access to personal information to those employees who are critical to the delivery of products and services to you.
Implementing appropriate physical, electronic and managerial procedures to guard against unauthorized access or use.
Requiring appropriate consents and protections from our business partners before we share personal information with them.
MesotheliomaLawyerCenter.org and its affiliates use commercially reasonable physical and technical security measures to protect all personal information in our possession. We cannot, however, guarantee or warrant the absolute security of any system or that any information we hold will not be accessed, disclosed, altered or destroyed.
Security measures are in place to protect against theft, loss or misuse of information sent through the website, and MesotheliomaLawyerCenter.org strives to maintain the integrity of these security measures. In the event, however, of a system compromise, MesotheliomaLawyerCenter.org will take all reasonable steps to protect the integrity of its databases. No method of transmission over the Internet, or method of electronic storage, is 100% secure, however. Therefore, we cannot guarantee its absolute security.
How Long Do You Retain My Personal Information?
We will retain your information for as long as needed to provide you with services and as necessary to comply with our legal obligations. Non-personal information may be retained indefinitely. Under certain circumstances, Federal and/or state law may require us to retain your personal information for different periods of time. Accordingly, we may not be able to delete or otherwise remove your personal information from our systems.
What Choices Do I Have?
You can always elect not to provide personal information to us, although if you do not complete and submit the information we ask for we may not be able to provide you with the most complete responses or you may not be able to access all the available features. If you wish to request access to your information so that you may update, delete inaccuracies or request that we no longer use your information to provide you services, contact us at https://www.mesotheliomalawyercenter.org/contact-us/. We will respond to your access request within 30 days. To request removal of your personal information from our testimonials, contact us at https://www.mesotheliomalawyercenter.org/contact-us/. In some cases, we may not be able to remove your personal information, in which case we will let you know if we are unable to do so and why.
Testimonials
If you submit a testimonial to us, we will ask for your permission to post your testimonial prior to any public use. We will post your name as given to us in your testimonial. Please be aware that any personally identifiable information you submit as a testimonial to be posted can be read, collected, or used by the general public, and could be used to send you unsolicited messages. We are not responsible for the personally identifiable information you choose to include in any testimonial you choose to submit. If at any time you decide to remove your testimonial, please contact us via e-mail or postal mail.
Social Media (Features) and Widgets
Our website includes Social Media Features, such as the Facebook Like button and Widgets, such as the Share this button or interactive mini-programs that run on our site. These Features may collect your IP address, which page you are visiting on our site, and may set a cookie to enable the Feature to function properly. Social Media Features and Widgets are either hosted by a third party or hosted directly on our Site. Your interactions with these Features are governed by the privacy policy of the company providing it.
Links to Other Sites
This website contains links to other websites that are not owned or controlled by MesotheliomaLawyerCenter.org. Please be aware that we, MesotheliomaLawyerCenter.org, are not responsible for the privacy practices of such other sites.
We encourage you to be aware when you leave our website and to read the privacy policies of each and every website that collects personally identifiable information.
This privacy policy applies to only information collected by this website.
A Special Note about Children's Privacy
You must be at least 18 years old to use this website. We encourage parents and guardians to spend time with their children online and to be fully familiar with the websites visited by their children. We recognize the particular importance of protecting privacy where children are involved. We do not knowingly collect personally identifiable information online from children under the age of 13. If a child under the age of 13 has provided us with personally identifiable information online, we ask that a parent or guardian contact us at https://www.mesotheliomalawyercenter.org/contact-us/. Visit the Federal Trade Commission website for more information about the Children's Online Privacy Protection Act (COPPA).
If you are between the ages of 13 and 18, please be sure to read this Privacy Policy with your parent and obtain his or her permission before you submit or post any Personal Information, and before you use any features of this website.
Contacting You
By filling out and submitting information on our website, you give us or one of our affiliates, affiliated law firms, or business associates permission to contact you. We consider this permission not to be specific to legal benefits, but also to other applicable products and services we may market and advertise in the future.
Removing Your Information
We will retain your information for as long as your account is active or as needed to provide you services. If you wish to request that we no longer use your information to provide you services or updates on additional products, contact us. Additionally, we will retain and use your information as necessary to comply with our legal or regulatory obligations, resolve disputes, and enforce our agreements.
If your personally identifiable information changes or if you no longer desire our service, you may update or amend your information with us or ask to have it removed from our database lists or production directory. Simply contact us by email or traditional mail. We will respond to your request to access within 30 calendar days.
Contact Us
If you have any questions, concerns or suggestions about our Privacy Policy or anything else about MesotheliomaLawyerCenter.org, you may contact us in several ways. You can:
Call: 800-793-4540
Send an email to:
https://www.mesotheliomalawyercenter.org/contact-us/
Any information sent to us through email is not encrypted by us.
Notice to California Residents:
Residents of the State of California may request a list of all third parties to which this website has disclosed certain information during the preceding year for those third parties' direct marketing purposes. If you are a California resident and want such a list, please contact us at https://www.mesotheliomalawyercenter.org/contact-us/.
For all requests, you must put the statement "California Shine the Light Privacy Request" in the body of your request, as well as your name, street address, city, state, and zip code. Please note that we are not responsible for requests that are not labeled or sent properly, or that do not have complete information.
Notice to Vermont Residents
We will not share any personal information about you with other businesses to the extent prohibited by applicable Vermont law or to the extent your prior consent to share is required by applicable Vermont law. For purposes of compliance with the Vermont Consumer Protection Act, if you are a resident of the State of Vermont and would like to opt-out from the disclosure of your personal information to any third-party for marketing purposes, please contact us at https://www.mesotheliomalawyercenter.org/contact-us/.
Notice to Users Outside of the United States
This Privacy Policy is intended to cover collection of information on our websites from residents of the United States. If you are visiting our websites from outside the United States, please be aware that your information may be transferred to, stored and processed in the United States where our servers are located and our central database is operated. The data protection and other laws of the United States and other countries might not be as comprehensive as those in your country. By using our services, you understand that your information may be transferred to our facilities and those third parties with whom we share it as described in this Privacy Policy.
Changes to Privacy Policy
MesotheliomaLawyerCenter.org updates or modifies this Privacy Policy from time to time. If we make material changes to this Privacy Policy or to how MesotheliomaLawyerCenter.org will use your personal information, we will post those changes here. We reserve the right to make changes in this policy at any time. Please check the policy each time you use our website to ensure that you are aware of any changes in our privacy practices. Our Privacy Policy will indicate the date when it was updated. Your continued use of our website will signify your acceptance of the changes to our Privacy Policy. If you do not agree with the changes to how your information will be used, please do not continue to use our website. By using this website, you signify your consent to the MesotheliomaLawyerCenter.org Privacy Policy. If you do not agree to this policy, please do not read or use MesotheliomaLawyerCenter.org. When you request rate quotes or other information through MesotheliomaLawyerCenter.org, you are authorizing us to share your information with our business partners, affiliates or associates who will contact you by phone, email, or mail. If you do not want further communication from them, please notify the business associates directly.
From time to time, we may add new websites that may or may not be listed in this Privacy Policy. Please note that this policy applies only to the information collected through this website and not to websites maintained by other companies or organizations to which we link. In addition, this policy applies only to information collected by MesotheliomaLawyerCenter.org online or offline.
PLEASE PRINT AND RETAIN A COPY OF THIS PRIVACY POLICY FOR YOUR RECORDS.