Mesothelioma and Talcum Powder Lawsuits
Page Updated on August 19, 2023
Mesothelioma and talcum powder lawsuits are rising as more people realize that asbestos in their hygiene products caused cancer. Scientific studies have shown that talc, a mineral used in numerous products, often contains contaminating asbestos. Contact an asbestos attorney if you used talcum powder for years and now have mesothelioma or ovarian cancer.
If you or a loved one were diagnosed with mesothelioma, asbestosis, or asbestos-related cancer, you might be entitled to substantial compensation. We invite you to fill out our form today for a free Financial Compensation Packet, filled with information on experienced mesothelioma lawyers in your area, how to get paid in 90 days, how to file an asbestos trust fund claim and much more. 
FREE Financial Compensation Packet
Info on law firms that will recover your

highest compensation

Learn how to get paid in 90 days
File for your share of $30 billion in trust funds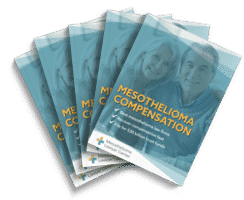 Free

Financial Compensation Packet
Info on law firms that will recover your

highest compensation

Learn how to get paid in 90 days
File for your share of $30 billion in trust funds
The Dangers of Asbestos in Talcum Powder
Asbestos deposits and talc deposits are frequently found alongside each other and mixed together. Workers who mine talc deposits can be exposed to the harmful contaminant. Asbestos poses a risk for consumers when it ends up in commercial talc products.
Numerous products contain talc, including talcum powder, cosmetics, chalk, ceramic, rubber, and even pharmaceuticals.
Asbestos in talcum powder has contributed to cases of mesothelioma in people who used these products for decades. Many women also developed ovarian cancer from using baby powders.
Who Is at Risk for Asbestos Talcum Powder Exposure?
Anyone who has used or worked around products with talc could have been exposed to asbestos. Not all talc or talc products contain asbestos, but it is always possible.
Because of its ability to absorb moisture and reduce friction, talc is used in many hygiene and cosmetic products as well as some other commercial products:
Baby powder
Dry shampoo
Eye shadow
Foundation
Compact makeup
Blush and bronzer
Children's cosmetics
Crayons
Chalk
Ceramics
Talc's properties have also made it useful in industrial products. Talc is often used in:
Glazes
Ceramics
Clay
Paint
Toilets
Sinks
Paper
Joint Compound
Anti-caking agents
Johnson & Johnson Talcum Powder Lawsuits
Johnson & Johnson has faced many of the most significant lawsuits over asbestos and talcum powder in recent years. These are a few noteworthy examples:
In 2016, the family of Jacqueline Fox sued the company over her death from ovarian cancer. The jury awarded them $72 million for the wrongful death.
In 2021, the Supreme Court upheld a $2 billion verdict against Johnson & Johnson. The case involved 22 women who developed cancer after using their products for decades. The company tried to appeal the jury verdict but lost.
A California jury awarded Christina Prudencio $26.4 million in 2021 for mesothelioma. She sued Johnson & Johnson, claiming her illness resulted from asbestos in the company's talcum powder products. She used the products throughout her childhood and then with her younger siblings.
Johnson & Johnson is now trying to limit its liability in these cases through a controversial legal move called the 'Texas Two-Step.' The first step in the process is to form a subsidiary in Texas. The company moves its asbestos liabilities to that subsidiary.
The subsidiary then declares bankruptcy, which limits its liability. The move is controversial because it would prevent victims from suing for damages.
Johnson & Johnson has been battling in court to take these steps. Most recently, a bankruptcy judge in New Jersey denied the company's attempts. The judge ruled that talc lawsuits did not put Johnson & Johnson in immediate financial distress, so the move was unnecessary. This is a win for asbestos victims.
Colgate-Palmolive Talcum Powder Lawsuit
In May 2015, a California woman won a $13 million talcum powder mesothelioma lawsuit against Colgate-Palmolive. Judith Winkel, 73, used "Cashmere Bouquet" talcum powder from 1961 to 1976 and subsequently developed mesothelioma.
Colgate-Palmolive attorney Faith Gay tried in vain to argue the case, stating that the company didn't harm Winkel.
"Cashmere Bouquet did not harm Mrs. Winkel. There was a clear absence of proof connecting any disease to our product."
The jury disagreed. After a two-week trial, the jury sided with the plaintiff, finding Colgate-Palmolive 95% responsible. Her attorney stated the amount is fair since the company put people at risk for numerous years.
"This is an example of the legal system exposing what a company should have been honest about 50 years ago. Judith Winkel only wanted a jury to hear the truth about this product and hopefully to help others who are similarly exposed."
Representatives for Colgate-Palmolive expressed disappointment with the verdict. According to company spokesman Tom DiPiazza,
"Colgate was disappointed with the jury's verdict. [Cashmere Bouquet] played no part in causing the plaintiff's illness. In order to avoid devoting resources to continuing litigation through the appeals process, the parties have entered in a confidential settlement."
According to Colgate-Palmolive's 2015 quarterly report, the company faces 23 additional talc and asbestos lawsuits from plaintiffs in California, New York, New Jersey, Illinois, Maryland, South Carolina, Delaware, Washington D.C., and Wisconsin.
The company's attorneys "believe these cases are without merit and intend to challenge them vigorously."
Secondhand Talcum Powder Asbestos Exposure Lawsuit
On January 7, 2016, Wisconsin resident Steven P. Schultz and wife Kimberly Schultz filed a lawsuit against several companies. They claimed secondhand asbestos exposure from his mother's talcum powder caused Steven to develop mesothelioma.
The case was filed not only against Colgate-Palmolive but also against Coty, Inc., Cyprus Amax Minerals, Metropolitan Life Insurance Company, Pfizer, Inc., and Whittaker Clark & Daniels, Inc.
The plaintiffs claim that Steven Schultz's mother used the talcum powder (Cashmere Bouquet) throughout the 1960s and 1970s, as well as Coty Airspun Face Powder from the late 1960s until the 1980s.
Steven Schultz alleged that secondhand exposure to asbestos in the products caused him to develop mesothelioma. He's now seeking damages for mental and physical anguish, permanent disability, loss of enjoyment of life, loss of earning capacity, and medical bills.
Kimberly Schultz is seeking damages for deprival of monetary benefits, mental stress, spousal support, and household support.
Talc Supplier and Industrial Talc Lawsuits
Talc suppliers and companies that use industrial talc products have also faced mesothelioma lawsuits:
Whittaker, Clark & Daniels. In 2013, talc supplier Whittaker, Clark & Daniels lost a lawsuit to a New Jersey woman who developed mesothelioma secondhand after her father came home in asbestos-ridden work clothes. The plaintiff was awarded $2 million.
Imerys Talc America and Vanderbilt Minerals. In 2017, a California jury awarded Richard Booker's family over $22 million for his wrongful death due to mesothelioma. Booker worked with paints that contained talc contaminated with asbestos. The talc came from suppliers Imerys Talc America and Vanderbilt Minerals. Both companies were held liable.
Vanderbilt Minerals. In 2018, Vanderbilt Minerals settled a mesothelioma lawsuit brought against the company. Robert Lord worked with industrial talc in Vancerbilt's ceramic tiles. His case went to trial, but Vanderbilt ended up settling with Lord for an undisclosed amount.
Am I Eligible for a Talcum Powder Mesothelioma Lawsuit?
If you've developed mesothelioma and you think talcum products might have caused it, contact an experienced mesothelioma attorney.
Mesothelioma lawsuits are complex and intricate, and a lawyer experienced in this sort of litigation will be able to direct you. Remember to keep copies of all of your medical documentation, which will make the process of determining if you have a case run more smoothly.
In general, however, if you've developed mesothelioma using talcum powder products, you more than likely have a valid case.
Choosing a Top Talcum Powder Lawyer
Talcum powder lawsuits are part of an emerging trend, but there are already lawyers and firms experienced in handling these cases. Choose an asbestos or mesothelioma lawyer or law firm with relevant expertise for the best outcome.
They should have proven experience with similar cases and wins for clients like you. Only experts in asbestos and talcum powder can provide the resource necessary to settle your case successfully.
Time Limitations on Talcum Powder Lawsuits
Another important aspect to remember is that if you think you may have developed mesothelioma from talcum powder, you'll need to consult with an attorney as soon as possible.
Each state in the U.S. has its own statute of limitations for mesothelioma cases, meaning that you have a certain amount of time from the day you were diagnosed with the disease. Statutes of limitation range from one year to six years from the day you received the mesothelioma diagnosis.
Compensation for Talcum Powder Lawsuits
It's difficult to determine exactly how much compensation you're entitled to for your case. Several things factor into the total damages, including how long you've lived with mesothelioma, the stage of the disease, your age, how you were exposed, the state you live in, and more.
So far, however, as seen in past talcum powder lawsuit verdicts, the compensation tends to be generous.
Compensation will also depend upon whether you settle your case or take it to trial.
Whereas most mesothelioma lawsuits are handled out of court, sometimes, such as a Colgate-Palmolive case, the defendant would rather fight the charges instead of owning up to their responsibility.
Settlements typically have a lower payout than trials, but at the same time, you have assured a victory, and the process is over quicker.
Trials, on the other hand, take longer than settlements, and there is no guarantee of victory. Yet, verdicts rendered in the plaintiff's favor after a trial usually result in a high compensation payout.
Additional Help and Resources for Talcum Powder Mesothelioma Victims
If you've been diagnosed with mesothelioma or asbestos-related lung cancer, it's important to understand your choices, legal rights, and medical options. You may be entitled to compensation for mesothelioma treatments, lost wages, physical pain, emotional suffering, and much more. Don't forget to fill out our form to get our free Financial Compensation Packet, filled with information on seasoned asbestos and mesothelioma attorneys. If you need additional assistance, feel free to contact us at 800-793-4540.
FREE Financial Compensation Packet
Info on law firms that will recover your

highest compensation

Learn how to get paid in 90 days
File for your share of $30 billion in trust funds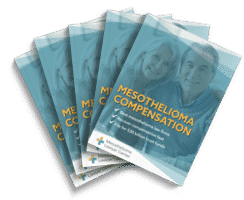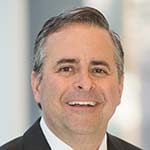 Paul Danziger grew up in Houston, Texas and earned a law degree from Northwestern University School of Law in Chicago. For over 25 years years he has focused on representing mesothelioma cancer victims and others hurt by asbestos exposure. Paul and his law firm have represented thousands of people diagnosed with mesothelioma, asbestosis, and lung cancer, recovering significant compensation for injured clients. Every client is extremely important to Paul and he will take every call from clients who want to speak with him. Paul and his law firm handle mesothelioma cases throughout the United States.