Mesothelioma and Talcum Powder
Page Updated on August 19, 2023
Mesothelioma and talcum powder have been connected in several cases due to contaminating asbestos in the mineral talc. After years of talcum powder use, many people have sued companies like Johnson & Johnson over malignant mesothelioma and ovarian cancer.
If you or a loved one have been diagnosed with mesothelioma, asbestos-related lung cancer, or asbestosis, you may be eligible for substantial compensation. There is currently over $30 billion in asbestos trust funds set up for victims of asbestos-related diseases. Fill out our form to receive our free Financial Compensation Packet. Our packet is loaded with information on qualified mesothelioma attorneys in your area, how to file a claim for asbestos trust funds, how to get paid in 90 days, and more.
FREE Financial Compensation Packet
Info on law firms that will recover your

highest compensation

Learn how to get paid in 90 days
File for your share of $30 billion in trust funds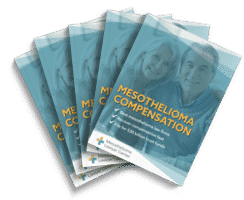 Free

Financial Compensation Packet
Info on law firms that will recover your

highest compensation

Learn how to get paid in 90 days
File for your share of $30 billion in trust funds
What Is Talcum Powder?
Talcum powder is a product made from a mineral called talc. Talc is a soft mineral consisting of magnesium, oxygen, and silicon. Talc is useful in many applications because it absorbs moisture and reduces friction between surfaces.
These properties have made talc useful in industrial applications. It has also long been used in hygiene products, like talcum powder and cosmetics.
Does Talcum Powder Contain Asbestos?
Talc deposits often exist alongside or with asbestos, another natural mineral. Some mined talc contains asbestos, usually tremolite asbestos. This contaminating asbestos may still be in the talc when used in consumer and hygiene products.
Talcum powder manufacturers assert that only the purest asbestos-free forms of talc go into products. There is no way to be sure since the U.S. Food and Drug Administration (FDA) doesn't screen these consumer products and allows the cosmetics industry to monitor its products.
In 1973, the FDA tried to require testing for asbestos in talcum powder. The Cosmetic, Toiletry and Fragrance Association resisted the requirement. Ultimately the FDA agreed to let the industry regulate itself.
Since then, some studies have found asbestos in talcum powder products. In 2014, researchers reported on asbestos studies in one particular brand of talcum powder.
They found asbestos in several samples of the company's baby powder. They also tested how easy it was to inhale the products and concluded it could cause mesothelioma.
An investigative report published in 2018 found that Johnson & Johnson talc products contained asbestos. The report also found that the company knew about the asbestos and never reported it to the FDA.
Additional Asbestos Studies on Talcum Powder
According to occupational studies done on talcum powders, when women used these powders, toxic asbestos fibers, which were mixed into talcum products before the late 1970s, could cause ovarian cancer. This type of cancer occurs after the asbestos fibers in the power build and accumulate in a woman's ovaries.
In 2014, the International Journal of Occupational and Environmental Health published a detailed study regarding mesothelioma victims who used talcum powder:
Investigative journalist Andrew Schneider, the writer of the story, pointed out in detail that many women who passed away with mesothelioma developed the disease from asbestos after using common household products such as talcum powder.
The reason behind the mesothelioma remained a mystery until the story uncovered the culprit.
Schneider wrote that scientists from three different laboratories tracked asbestos-containing talc for over a year in both mines and consumer products.
The scientists then linked asbestos to a woman's lungs, who had passed away from mesothelioma. She had used talcum products for numerous years.
Other reports of women who used talcum powder and subsequently died followed. According to Ronald Gordon, a pathologist and a contributor to the study,
"Of course we knew that there was asbestos contaminating the talc in many cosmetic powders, but who would have ever thought that that's the way these women were being exposed?"
At the Mount Sinai School of Medicine, Gordon analyzed a deceased female's lung tissues. It confirmed further that the cause of her mesothelioma stemmed from asbestos found in talc.
"We have traced the asbestos in the talc to the mines from which it originated, into the milled grades, into the product, and finally into the lung and lymph nodes of the users of those products, including one woman who developed mesothelioma."
According to the study, the female mesothelioma victim frequently used a talcum powder called Cashmere Bouquet, manufactured by Colgate, which "contained identifiable asbestos fibers with the potential to be released into the air and inhaled during normal personal talcum powder application."
In addition to mesothelioma, the study, similar to the previous occupational studies done, confirmed that not only are women who use talcum powder at risk for developing mesothelioma, but they also have a heightened risk of developing ovarian cancer.
Which Companies' Talc Products Contained Asbestos?
Several companies that make cosmetics and hygiene products, as well as talc mining companies and suppliers, have been associated with contaminating asbestos:
Beauty Plus Global, Inc.
Chanel
Claire's
Colgate-Palmolive
Imerys Talc America, Inc.
Johnson & Johnson
Shulton Co. (Proctor & Gamble)
Vanderbilt Minerals
Whittaker, Clark & Daniels
Is Talcum Powder Use Still Risky?
Although talcum powder manufacturers stopped using asbestos in their products more than 30 years ago, this doesn't necessarily mean that today's talcum powders are safe.
Studies of talcum powder use have found that there is an elevated risk:
According to a 2006 study published by the International Agency for Research on Cancer, using talcum powder, even without any asbestos mixed in, can still be dangerous as it's "possibly carcinogenic to humans."
In another study performed on talc powder in 2013 by the American Cancer Society (ACS), results confirmed that using non-asbestos talcum powder "is associated with a modest 20-30 percent increase in the risk of developing epithelial ovarian cancer."
There isn't an accurate way to know if talcum powder is asbestos-free unless the FDA begins to inspect the products thoroughly. For now, the companies that manufacture the products are still responsible for inspections.
Thousands of talcum powders are shipped into the United States from overseas all the time. The FDA or any other federal agency does not inspect these products.
Unfortunately, the makers of cosmetic products aren't required to prove that the ingredients used in the products are safe before selling them. According to a statement on the FDA website:
"Cosmetic companies have a legal responsibility for the safety and labeling of their products and ingredients, but the law does not require them to share their safety information with FDA."
Who Is at Risk of Asbestos Exposure from Talcum Powder?
Many studies that connected cancer with talcum powder involved women who used hygiene products for decades. They are not the only people at risk for asbestos exposure from contaminated talc.
Talc is also used in industrial workplaces. It is used in coatings and paints, lowers friction between parts in manufacturing equipment, and is used in paper, chalk, crayon, and ceramics manufacturing. Anyone working with industrial talc could be at risk.
Talc miners can also be at risk for asbestos exposure. A 2002 study involving talc miners in New York found that these workers have higher rates of mesothelioma than the general population. Nearby residents could also be at risk of exposure.
Lawsuits Against Talcum Powder Companies
Several companies make talcum powder hygiene products. In recent years, they have faced thousands of lawsuits over mesothelioma and ovarian cancer.
Colgate-Palmolive
In 2015, a woman sued Colgate-Palmolive over her mesothelioma diagnosis. She used the company's Cashmere Bouquet for 15 years. The case went to trial, and a jury awarded the California woman $13 million.
Whittaker, Clark & Daniels
A California man diagnosed with mesothelioma sued Whittaker, Clark & Daniels, a talc supplier, in 2016. The man was exposed to talcum powder products for many years in his father's barbershop. The supplier used talc from mines in Alabama and North Carolina, known to have asbestos.
Johnson & Johnson
Johnson & Johnson has faced more lawsuits than other talcum powder companies. It has faced so many lawsuits that it is currently trying to push asbestos liabilities into a subsidiary that would then declare bankruptcy. The courts have so far not allowed this controversial move.
Several lawsuits against Johnson & Johnson have been successful. These include a $4.7 billion verdict awarded to 22 women with ovarian cancer in 2018. An Appeals Court reduced the amount to $2 billion. The company continued to try to appeal the award, but the Supreme Court declined to hear the case.
What to Do if You Used Talcum Powder
Occasional use of talcum powder isn't likely to put you at significant risk for mesothelioma or another type of cancer. If you used any of these products regularly for years, you should talk to your doctor about the risks.
Your doctor can provide information about risk factors and symptoms to look for. They can also offer any necessary health screenings.
If you get a diagnosis of cancer and suspect it is related to your talcum powder use, talk to an asbestos attorney or law firm. They can investigate your situation and determine if talcum powder or asbestos played a role. They can also give you legal options and guide your next steps if you want to seek compensation.
Resources and Assistance for Asbestos Victims
If you've been injured by asbestos, keep in mind that there is a good chance that you'll qualify for considerable compensation. Remember to fill out our form to get your free Financial Compensation Packet, with information on experienced asbestos and mesothelioma lawyers in your area. If you have questions or need additional assistance, contact us at 800-793-4540.
FREE Financial Compensation Packet
Info on law firms that will recover your

highest compensation

Learn how to get paid in 90 days
File for your share of $30 billion in trust funds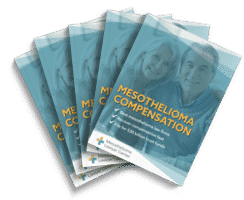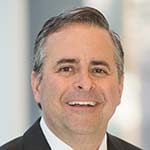 Paul Danziger grew up in Houston, Texas and earned a law degree from Northwestern University School of Law in Chicago. For over 25 years years he has focused on representing mesothelioma cancer victims and others hurt by asbestos exposure. Paul and his law firm have represented thousands of people diagnosed with mesothelioma, asbestosis, and lung cancer, recovering significant compensation for injured clients. Every client is extremely important to Paul and he will take every call from clients who want to speak with him. Paul and his law firm handle mesothelioma cases throughout the United States.