Chemotherapy for Mesothelioma
Page Updated on September 05, 2023
Chemotherapy for mesothelioma is a standard treatment for most patients. It usually involves a combination of medications that circulate through the body and kill cancer cells. Chemotherapy shrinks tumors, extends life expectancy, and improves the quality of life for mesothelioma patients.
Any form of treatment for mesothelioma can get extremely expensive. With chemotherapy, treatment sessions (along with medication) can quickly add up to prices that are usually above the average family's budget. Fill out our form to receive our free Financial Compensation Packet. Our packet is loaded with information on experienced mesothelioma attorneys in your area, how to file a claim for asbestos trust funds, how to get paid in 90 days, and more.
FREE Financial Compensation Packet
Info on law firms that will recover your

highest compensation

Learn how to get paid in 90 days
File for your share of $30 billion in trust funds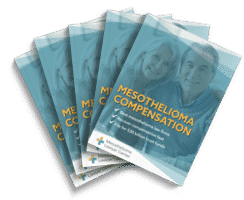 Free

Financial Compensation Packet
Info on law firms that will recover your

highest compensation

Learn how to get paid in 90 days
File for your share of $30 billion in trust funds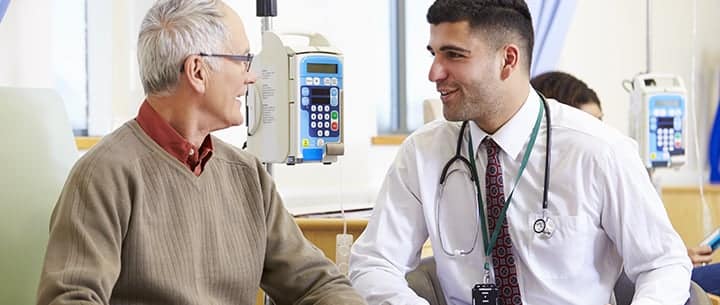 What Is Chemotherapy?
Chemotherapy is a cancer treatment that uses cytotoxic drugs. Chemotherapy drugs circulate in the body, killing cells that grow and divide rapidly, like cancer cells. This shrinks tumors. In some cases, it can even eliminate tumors.
While this can be a very effective treatment, most cytotoxic drugs also target healthy cells that grow quickly. This is why chemotherapy causes so many side effects. Patients must be able to withstand the side effects to get the benefits of chemotherapy.
Chemotherapy advancements have made this treatment more effective and safer, but it can still be very uncomfortable for patients. Patients and their doctors must weigh the benefits and risks when choosing specific drugs and how to administer chemotherapy.
How Is Chemotherapy Used to Treat Mesothelioma?
Years ago, physicians used only single chemotherapy as a form of mesothelioma treatment for patients. The success rate, around 15%, was extremely low.
Since then, physicians have begun combining chemotherapy drugs to extend the success rate and help mesothelioma patients handle the disease more efficiently.
Chemotherapy is now a common, first-line treatment for mesothelioma, especially for patients who are not eligible for surgery. It is also often combined with other therapies and can be used for all types of mesothelioma.
Chemotherapy as Part of Multimodal Treatment
Multimodal treatment is the most effective approach to managing mesothelioma. It means using more than one type of treatment. Chemotherapy is a standard treatment for mesothelioma, but it is rarely used alone.
As part of a multimodal treatment strategy, chemotherapy can be used in several ways in mesothelioma patients:
As the primary and first-line treatment
Before surgery to shrink tumors
With radiation therapy to shrink tumors
With immunotherapy to improve treatment effectiveness
With a targeted drug to improve effectiveness
After surgery to kill any remaining cancer cells
Chemotherapy for Peritoneal Mesothelioma
Pleural mesothelioma is the most common form of mesothelioma. Peritoneal mesothelioma accounts for less than 20% of diagnoses and develops in the abdomen. Chemotherapy is also a common treatment for this type.
Patients with peritoneal mesothelioma can often benefit from a particular type of chemotherapy called HIPEC (hyperthermic intraperitoneal chemotherapy). It involves circulating heated chemotherapy drugs throughout the abdomen. This is done after cytoreductive surgery to remove as much of the cancerous tissue as possible.
Palliative Chemotherapy
Chemotherapy is often used to extend life expectancy and as part of a plan to achieve cancer remission. It can also be used as a palliative treatment. This means the goal is not curing the cancer but helping the patient feel more comfortable.
If the patient can manage the side effects, chemotherapy reduces tumor size. This, in turn, reduces symptoms of the cancer and improves the patient's quality of life.
How Does Chemotherapy Affect Mesothelioma Life Expectancy?
Treatment with chemotherapy extends life expectancy for most patients as compared to receiving no treatment. Chemotherapy cannot cure mesothelioma but extends survival time and often reduces cancer symptoms.
Chemotherapy Drugs Used for Mesothelioma
Oncologists can choose from many different types of chemotherapy drugs. Those they use most often for mesothelioma include:
Alimta (Pemetrexed)
Alimta is used to treat mesothelioma more than any other type of chemotherapy medication currently used. Typically administered once every 21 days intravenously, Alimta is a systematic drug manufactured by Eli Lilly and Company.
Along with the medication, patients are advised to take vitamins and supplements, such as folic acid and B12. Patients are also usually given corticosteroids with Alimta to reduce skin reactions.
Alimta has been recommended for patients in advanced stages of mesothelioma treatment by the National Institute of Health and Clinical Excellence (NICE). Patients in advanced stages usually do not qualify for surgery. Pemetrexed is the best alternative for most of these patients.
Carboplatin
Carboplatin is typically reserved for ovarian, head and neck, and lung cancer patients. It's administered intravenously and usually takes about 60 minutes.
Patients typically go through several sessions every month; sometimes, treatment may require an inpatient stay at a medical facility. Patients are susceptible to infection after treatment and are advised to avoid other people who have colds, cases of flu, and other types of infections.
Cisplatin
Cisplatin is usually not effective enough on its own, but when combined with Alimta, the success rate is much higher. Just like other chemotherapy medications, cisplatin is administered intravenously every 21 days. Alimta is typically administered first, followed by cisplatin when combining the two drugs.
In other instances, cisplatin may be combined with doxorubicin, which helps put mesothelioma in slight remission.
Gemcitabine
Gemcitabine may be used with pemetrexed as an alternative to using carboplatin or cisplatin. Some people do not tolerate the platinum-based chemotherapy drugs very well.
Studies have found that this combination has a disease control rate of about 50%.
Onconas
e
Onconase works like most typical chemotherapy drugs by targeting and eliminating cancerous cells. The difference between Onconase and other drugs is that it causes more manageable side effects.
Patients have to go in for treatment at least once a week. Treatment is given intravenously and lasts around 30 minutes for each session. Candidates for Onconase are screened thoroughly, as it works best for those in good health.
Doctors often administer doses of both folic acid and vitamin B12. These vitamins work to help reduce the typical side effects of chemotherapy drugs while at the same time not affecting the strength of the treatment.
Bevacizumab
Bevacizumab is not technically a chemotherapy drug but is increasingly given along with chemotherapy. Bevacizumab is a targeted drug that prevents the formation of blood vessels supplying tumors with nutrients.
Studies have measured a median survival time of 18.8 months in patients treated with pemetrexed, cisplatin, and bevacizumab. This improves survival time in patients with just pemetrexed and cisplatin.
Other Mesothelioma Chemotherapy Drugs
Oncologists may choose other chemotherapy drugs to treat patients if the standard treatments are not effective or are poorly tolerated:
Doxorubicin
Methotrexate
Mitomycin
Navelbine
Vinorelbine
Chemotherapy With Immunotherapy for Mesothelioma
Adding immunotherapy drugs to chemotherapy is an increasingly common multimodal approach to treating mesothelioma.
Immunotherapy drugs harness the patient's immune system to encourage it to attack and kill cancer cells. The U.S. Food and Drug Administration approved two immunotherapy drugs in 2020, the first new approved treatment for mesothelioma in many years:
Nivolumab (Opdivo)
Ipilimumab (Yervoy)
Clinical trials showed that this combination was more effective in extending patient survival times than chemotherapy. Some patients now receive chemotherapy and nivolumab plus ipilimumab.
More recently, clinical trials have shown good results for patients receiving chemotherapy with Keytruda (pembrolizumab). The combination of chemotherapy with this immunotherapy drug resulted in improved survival times.
What to Expect When Getting Chemotherapy for Mesothelioma
Getting chemotherapy for the first time can be scary. Your doctors will talk to you about what you need to do to prepare and what to expect during and after treatment. There are different ways to administer chemotherapy, different drug combinations, and varying durations, so every patient has a unique experience.
How to Prepare for Chemotherapy
Your doctors will give you specific and personalized information about getting ready for chemotherapy treatment. Here are some general guidelines:
Talk to your medical team about the kind of treatment you'll be getting, how it will be administered, and anything else you need to know. Ask a lot of questions so you feel ready.
Your doctors might tell you to see your dentist before treatment. Treating any dental issues now can reduce complications of chemotherapy, such as infections.
Find out what side effects to expect and what you can do to manage them.
Stay hydrated before treatment.
Have a ride ready, so you don't have to worry later about getting to your appointment and back home again.
Arrange an area in your home where you can rest comfortably and easily access the things you need.
Talk to family and friends about what you'll be going through and tell them if you need help or support in the days following treatment.
How Is Chemotherapy Given?
One of the most important things you'll need to know is the type of chemotherapy you are receiving and how it is administered.
Systemic Chemotherapy
The most common form of chemotherapy is systemic. You will receive intravenous fluids containing chemotherapy drugs. The drugs circulate through your whole body, targeting fast-growing cells.
Injected Chemotherapy
Another way to deliver chemotherapy drugs is to inject the drugs into the area of the body with the tumors. This is not quite systemic but more specific than intravenous chemotherapy.
Regional Perfusion/Intraoperative Chemotherapy
A more specific type of chemotherapy involves applying the drugs directly to the area of the body where the tumors developed. This is often done after surgery. Before the surgeon closes incisions, the drugs are circulated in the chest cavity (pleural mesothelioma) or abdomen (peritoneal mesothelioma).
How Many Chemotherapy Treatments Will I Need?
Chemotherapy is often given in cycles. One cycle of drugs is not typically adequate to treat mesothelioma effectively. Each cycle of chemotherapy lasts a few weeks. Most patients get a break between cycles to allow the body to recover. The number of cycles you need depends on individual factors.
Chemotherapy Side Effects
Keep in mind that chemotherapy drugs work by attacking cancerous cells. Unfortunately, the medications can affect healthy cells in the body, such as cells in the hair, bone marrow, mouth, and intestines. Because of this, the side effects of chemotherapy can be quite extensive.
Yet, every person reacts differently, and some may experience more side effects than others. Typical side effects of chemotherapy include:
Patients can easily bleed and bruise because of reduced blood platelets
Hair loss from the chemotherapy drugs attacking healthy hair follicle cells
Mouth sores and cuts
Nausea, which may also include episodes of vomiting
Low white blood cell count, which results in possible infections
Lack of energy and feeling lethargic
In some rare instances, chemotherapy drugs can cause significant damage. According to the American Cancer Society (ACS), drugs such as carboplatin and cisplatin have been shown to produce nerve damage, which can lead to hearing loss, severe pain and burning in the hands and feet, and extreme sensitivity to heat and cold.
How to Manage Chemotherapy Side Effects
Many chemotherapy side effects are temporary. The side effects usually clear up once the drugs have left the body. Meanwhile, you can alleviate symptoms with additional medications and other treatments.
Nausea and Vomiting. These are some of the most common side effects of chemotherapy. Try eating bland foods, small meals, and foods that are easy to digest. Anti-nausea medications or medical cannabis can also help.
Hair Loss. Hair loss is also common. For many patients, this is unavoidable. A cooling cap may slow the process of hair loss. It slows the flow of blood to the scalp, slowing down the drugs' effects on hair follicles.
Fatigue. This is a tough side effect that makes it difficult to do ordinary tasks. Get plenty of rest throughout the day, sleep enough at night, and get light exercise to combat fatigue.
Mouth Sores. Painful mouth sores are uncomfortable and make it difficult to eat. Focus on eating soft foods, like meal-replacement shakes. Avoid spicy or hot foods that will irritate sores.
Lowered Immunity. You are more likely to get sick while on chemotherapy. Avoid large crowds and anyone who is sick. Get any vaccines your doctors recommend.
Speak up about chemotherapy side effects. Tell your doctors about them and be as specific as possible. They can help you manage them safely. They may also want to change your treatment plan if you have unbearable or serious side effects.
Getting Help
Remember to fill out our form to get your free Financial Compensation Packet, with information on qualified asbestos and mesothelioma lawyers in your area. Keep in mind that if you have mesothelioma, asbestos-related lung cancer, or asbestosis, you may be eligible for considerable compensation. For additional assistance, contact us at 800-793-4540.
FREE Financial Compensation Packet
Info on law firms that will recover your

highest compensation

Learn how to get paid in 90 days
File for your share of $30 billion in trust funds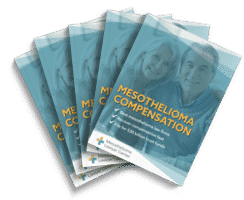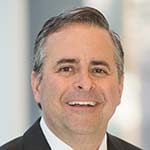 Paul Danziger grew up in Houston, Texas and earned a law degree from Northwestern University School of Law in Chicago. For over 25 years years he has focused on representing mesothelioma cancer victims and others hurt by asbestos exposure. Paul and his law firm have represented thousands of people diagnosed with mesothelioma, asbestosis, and lung cancer, recovering significant compensation for injured clients. Every client is extremely important to Paul and he will take every call from clients who want to speak with him. Paul and his law firm handle mesothelioma cases throughout the United States.