Page Updated on August 03, 2020
Kentile Floors, also known as the Kentile Floors Factory, was a New York-based flooring products manufacturer that used asbestos in a variety of its products. Eventually, Kentile Floors closed down, but not before filing for bankruptcy to help cover the mounting expenses of asbestos claims.
If you suffer from mesothelioma, asbestos-related lung cancer, or asbestosis, you may be eligible for a large amount of compensation. Currently, there is over $30 billion in asbestos trust funds, set up for those who have been diagnosed with an asbestos-related illness. Fill out our form to receive our free Financial Compensation Packet. Our packet is loaded with information on experienced mesothelioma attorneys in your area, how to file a claim for asbestos trust funds, how to get paid in 90 days, and more.
Free

Financial Compensation Packet
Info on law firms that will recover your

highest compensation

Learn how to get paid in 90 days
File for your share of $30 billion in trust funds
Kentile Floors History
Kentile Floors was established in 1898 by founder Arthur Kennedy. The business specialized in flooring and flooring products in various colors and sizes. In the beginning, the company focused on mostly rubber and vinyl floor tiles and flooring products.
By the late 1940s, Kentile Floors began manufacturing asphalt-based floor tiles, which helped boost the company's popularity. Shortly after, the company became an industry leader in asphalt-based floor tiles.
By the 1950s, Kentile Floors' variety of flooring products (coupled with its reputation for high-quality materials) made the company one of the largest flooring manufacturing enterprises in the U.S. Large "Kentile Floors" skyscraper signs were created, which became well-known in New York area.
However, the high-quality, resilient products that Kentile Floors provided were loaded with asbestos, especially the asphalt-based and vinyl tiles. Research suggests that as much as 25% asbestos was used in many of the company's products.
As more and more workers and consumers began developing asbestos-related illnesses such as mesothelioma and asbestos-related lung cancer, lawsuits against Kentile Floors mounted.
Kentile Floors Lawsuits and Bankruptcy
By the 1990s, Kentile Floors faced so many asbestos-related lawsuits that it couldn't keep up with the increasing expenses. In 1992, the company filed for Chapter 11 bankruptcy.
Six years later, Kentile Floors came out of bankruptcy, but the lawsuits continued to add up, leading into one of the reasons for the company's closure in 1998. Although the company attempted to create an asbestos trust fund prior to closing, it was unsuccessful.
Judith Harrell
When the company officially closed its doors, the lawsuits remained. Well into the 2000s, Kentile Floors faced numerous asbestos-related cases.
In a 2010 case, a Los Angeles jury awarded $1.6 million to Judith Harrell, a plaintiff who was diagnosed with mesothelioma due to asbestos exposure from multiple companies, including Kentile Floors.
The jury found Kentile Floors 6% responsible for Harrell's illness. Other companies found liable included:
Ford – 10%
Navistar – 10%
Exxon Mobil – 18%
Pittsburgh Corning – 17%
Safeway Scaffolding – 17%
Econo Portable Builders – 7%
Georgia-Pacific Corp. – 6%
U.S. Gypsum – 6%
Napa – 1%
Bendix – 1%
Pete Green's Service Station – 1%
Occupations Affected By Kentile Floors
Kentile Floors' products reached numerous homes and businesses throughout the nation for more than 40 years.
Not only were Kentile Floors' manufacturing workers at risk of asbestos exposure, but also tile installers, construction workers, painters, electricians, and plumbers.
Consumers were also at risk of asbestos exposure as many of the company's products were installed in residential homes.
Additional Information and Resources
Remember to fill out our form to get your free Financial Compensation Packet, with information on asbestos and mesothelioma lawyers in your area. For additional assistance, contact us at 800-793-4540.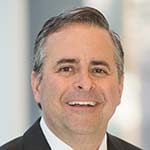 Paul Danziger grew up in Houston, Texas and earned a law degree from Northwestern University School of Law in Chicago. For over 25 years years he has focused on representing mesothelioma cancer victims and others hurt by asbestos exposure. Paul and his law firm have represented thousands of people diagnosed with mesothelioma, asbestosis, and lung cancer, recovering significant compensation for injured clients. Every client is extremely important to Paul and he will take every call from clients who want to speak with him. Paul and his law firm handle mesothelioma cases throughout the United States.