Asbestos Found in Mesothelioma Victim's Lungs Match Cosmetic Powders She'd Used
Published on December 21, 2020
While malignant mesothelioma has long been associated with male-dominated work like shipbuilding and insulation, a disturbing increase in women being diagnosed with the rare and fatal form of cancer is being blamed on exposure to asbestos in talc-based powders. Though companies like Johnson & Johnson and Colgate Palmolive have denied asbestos contamination in their products, a recent lawsuit revealed that a Kentucky woman's lungs contained undeniable proof of asbestos contamination from cosmetic talc.
Kentucky Woman's Mesothelioma Blamed on Talc-Based Powder
The case involved Donna Hayes, a former travel agent who died of malignant mesothelioma just eight months after having been diagnosed with the disease at the age of 72. Her family pursued legal action against both Johnson & Johnson and Colgate Palmolive, saying that she had used their talc-based powders throughout her life and that asbestos hidden in the talc had led to her illness.
When the companies denied responsibility for her death by claiming that their products had not contained asbestos, the family asked Brown University's Alpert Medical School professor David Egilman to examine her lung tissue to either confirm or deny the link between her death and the powder.
Expert Witness Confirms Presence of Specific Asbestos in Mesothelioma Victim's Lungs
Dr. Egilman is a noted expert in epidemiology and occupational medicine, and he testified to the jury in the mesothelioma lawsuit that his analysis of Mrs. Hayes' lung tissue had identified a unique combination of talc and asbestos that is specific to cosmetic talcum powder. Egilman said that different types of asbestos have their own "fingerprint", and that the anthophyllite found in her lungs "is not mixed with talc in any commercial product — aside from talc." He also found tremolite present, for which the same limited use is true.
As more and more claims of liability for malignant mesothelioma and other cancers have been lodged against Johnson & Johnson, the company has made the decision to stop selling their talc-based products in North America.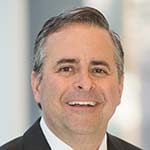 Paul Danziger grew up in Houston, Texas and earned a law degree from Northwestern University School of Law in Chicago. For over 25 years years he has focused on representing mesothelioma cancer victims and others hurt by asbestos exposure. Paul and his law firm have represented thousands of people diagnosed with mesothelioma, asbestosis, and lung cancer, recovering significant compensation for injured clients. Every client is extremely important to Paul and he will take every call from clients who want to speak with him. Paul and his law firm handle mesothelioma cases throughout the United States.